New Range of Large Printed Teddy From £26.99
(Added 26th February 2015)
You asked for it, so we've made it! We now offer a range of Large Printed Teddy Bears starting from £26.99 each. Each one comes personalised with a choice of designs including an upload your photo and birth square design. They are approx 16 inches from head to toe and you can view the full range here http://www.readyteddygo.co.uk/teddy-bears/printed-large-bears.html
New Range of Mini Printed Teddy Bears From £9.99 Each
(Added 24th February 2015)
We have just launched a range of Mini Printed Teddy Bears which are our smallest range of bears wearing our "Small" White T-shirt and can be personalised with up to 3 lines of text (up to 20 characters per line) on BOTH the Front and Back. Choice of Text Colours and Fonts available.
View the full range here http://www.readyteddygo.co.uk/teddy-bears/printed-mini-bears.html
New Range of Personalised Printed Mugs
(Added 23rd Febriary 2015)
We have been working on a range of printed personalised mugs for a few weeks now and they are finally ready and are now availble on the website. There are over 40 different designs to choose from for both children and adults. All designs can be printed on either a Ceramic or Polymer (Plastic) Mug and come in a Clear Acetate Gift Box for only £9.99 with Free UK Delivery.
You can view the full range here http://www.readyteddygo.co.uk/personalised-mugs.html
New Products:- Cubbies, Comfort Blankets, Christmas Stockings & Santa Sacks.
(Added 13th November 2014)
We have added some more new additions to our range of personalised gifts for children and these include Cubbies which are soft toys which we can embroider on the tummy of and baby comfort blankets made by the same company so many are the same characters. We also have some lovely christmas stockings which we can embroider your chosen name onto the top and also some very large santa sacks which we can also personalise.
We also have plans to add a lot more new products after Christmas so please come back regularly to see what new personalised gifts we have available.

Personalised Embroidered Large Santa Sacks £19.99
Just Launched:- New Range of Small and Medium Teddy Bears.
(Added 10th October 2014)
We now offer smaller teddy bears at lower price points for the customers who don't want to spend £29.99 on a large embroidered bear as they are after a smaller gift. We now offer a range of small and medium teddy bears in many styles and sizes starting from £11.99. We print them using a method called "Sublimation" which means the Ink is absorbed into the fabric when heat is applied. Because we are using this method we can only offer white t-shirts at this time as the process only works on 100% white polyester. We also have a range of promotional bears which you can have your logo or slogan branded on.

We've added loads of new applique designs to our bear design tool page.
(Added 6th December 2013)
You can now choose one of our applique embroidered designs to go on your teddy bear. An applique design is an embroidred designs that also uses fabric rather than all stitches. You can view larger images of these in our gallery here. We still have a few more to add over the next couple of weeks. We can use different fabrics to the ones we have used, just let us know what you would like by entering your requirements in the "special requirements" box on the Bear Design Tool page or drop us an email. You can also view images of available fabrics here.
We've added some new soft toys to the Ready Teddy Go family!
(Added 11th October 2013)
We have just added some new teddy bears and animal soft toys to our range of soft toys that we can personalise. See them below.
We're in the Press!
(Added 29th August 2013)
We have had our press release featured in the Oxfordshire Guardian Wantage and Grove edition. You can have a read by clicking the image below and turning to page 17!
Ready Teddy Go Launch Mobile Version of Website
(Added 6th August 2013)
We've been working on a mobile version of the website for the last month and it is now finished and live. It is alot easier to use and faster to load than the full desktop version on your phone and we've already started to receive orders from mobiles which is a positive sign that you like it! You can still view the desktop version of the site if you wish by clicking the link in the footer. We decided to keep the full desktop version for ipads and other tablets but you can also view the mobile version if you wish again by clicking the link in the footer. If you come across any bugs please don't hesitate to contact us so we can get them fixed asap. Below is an image of what the homepage looks like.

We've Won The Mumpreneur UK Gold Website Award
(Added 10th July 2013)
We are so excited that we have received an email from Mumpreneur UK saying that we have won their Gold Website Award. To be honest I had forgotten we had even entered! We've spent a lot of hours on the website to make sure it is easy to use and showcases our lovely personalised bears and it's great that our hard work is recognised. We are currently working on a mobile version of the site so soon ordering a Personalised Teddy will be even easier on your mobile!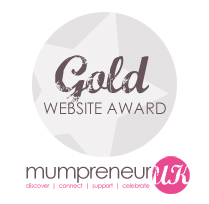 We've Made a YouTube Video of Our Teddy Bears!
(Added 21st June 2013)
We've created a photo movie which we've uploaded to YouTube showcasing our favourite teddy bears which we've personalised for customers. We've used Anne Murrays famous song "Teddy Bears Picnic" as the backing music and of course our images from our Gallery. What do you think?
You Can Now Choose From a List of 10 Fonts For Your Personalised Teddy Bear
(Added 17th June 2013)
We have now added a new section to our Bear Design Tool page where you can now choose a font for us to use when embroidering the text for your teddy bear. We previously used Comic Sans for all our orders which is what you will see in our gallery but we can now offer the following 10 fonts:-
1. Alaska, 2. Avant Garde, 3. Calligraphy, 4. Hobo, 5. Rockwell, 6. Curlz (capitals only), 7. Charles Script, 8. Comic Sans, 9. Challenge, 10.Old English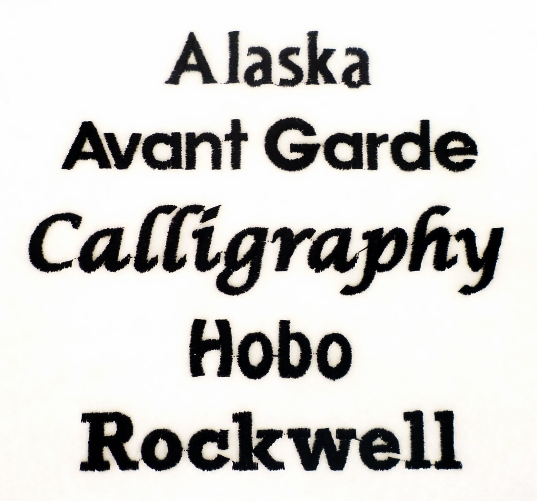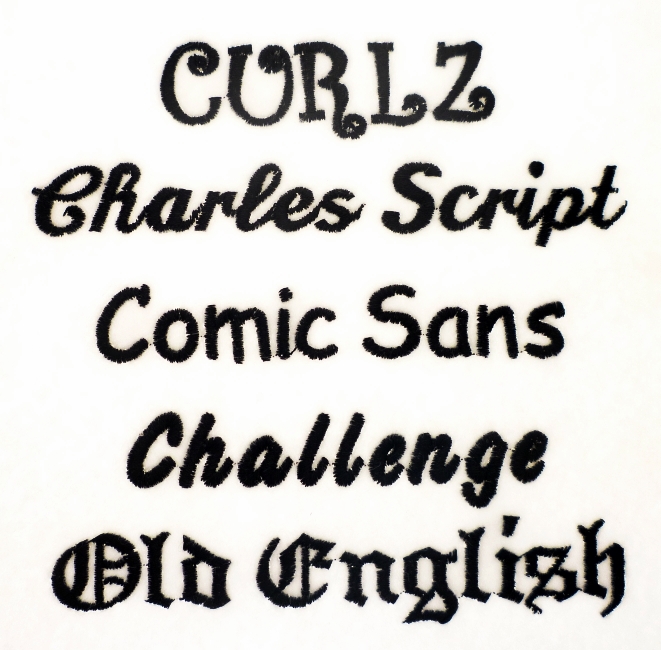 Ready Teddy Go Launch Tutorial / Step By Step Video On How To Order Your Personalised Teddy Bear Via Our Website
(Added 5th February 2013)
We have created our very first Video which shows you step by step how to order a personalised teddy bear on our website as well as what other products and services we offer. If you are having problems ordering your Personalised Bear then please view our 5 minute video. If you need any further help then please feel free to email us or use our live online chat service.
Ready Teddy Go Win Theo Paphitis #SBS on Twitter
(Added 18th December 2012)
We have been entering Theo Paphiti's Small Business Sunday competition for over 6 months now and thought it would be months before we were chosen as one of his 6 lucky winners. Small Businesses throughout the UK tweet Theo about their business between 5 and 7.30pm every Sunday and then at 8pm on Monday he re-tweets his favourite 6 to his 305, 000 followers! This we week he chose us! We are so excited that he chose us and have already received many tweets from fellow SBS winners aswell as an increase in traffic to our website so more and more people are finding out about our cool personalised embroidered teddy bear business. All winners get to complete a profile page on Theo's website www.theopaphitissbs.com and use the SBS Winners Badge on their website and blog as well as submit press releases which we will be doing in due course.
Below is an image of our Winning Tweet and our SBS Winners Badge.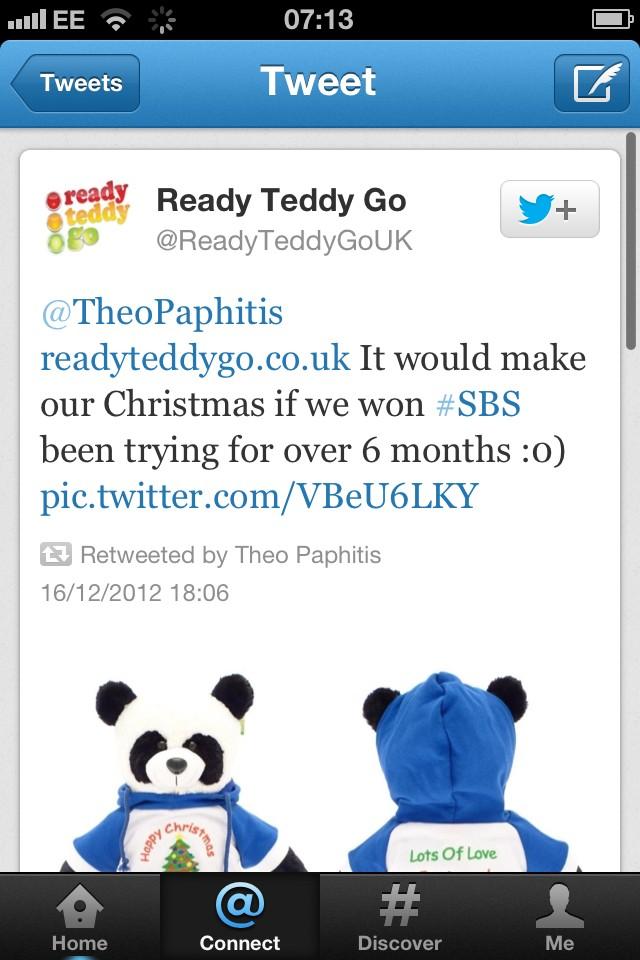 Over 50 New Embroidery Designs Have Been added to our Bear Design Tool
(Added 7th December 2012)
We have added over 50 new embroidery designs from Baby to Christmas to our Bear Design Tool page which is where you design what you would like on your Personalised Teddy Bear. Below is a picture of some of them that we have stitched out.
Why not have a read of some of our own Teddy Bear Stories?
(Added 22nd October 2012)
We at Ready Teddy Go have written a selection of short stories featuring none other than our bears and animals. So why not joing Alfred and Ted on their adventures and see who else they will meet along the way. You can view our Teddy Bear Stories here http://www.readyteddygo.co.uk/teddy-bear-stories where we will also be added some fun pictures to accompany each story.
You Can Now Add An Embroidered Gift Tag To Your Bear or Animal Soft Toy!
(Added 15th October 2012)
Instead of a hoodie you can now add a personalised embroidered gift tag to your bear measuring approx 6 inches by 4 inches (measured at widest points) finished off with some high quality ribbon of your choice for only £5.95 with FREE UK Delivery so a great cheaper and simpler alternative to our personalised hoodies. You can add up to 4 lines of text to the tag, each with up to 15 Characters. You can choose a different thread colour for the text and gift tag outline. The tags are made of high quality 100% Acrylic white felt. You can order your embroidered gift tag here http://www.readyteddygo.co.uk/teddy-bear-accessories/embroidered-gift-tag.html and below is an image of one we made earlier!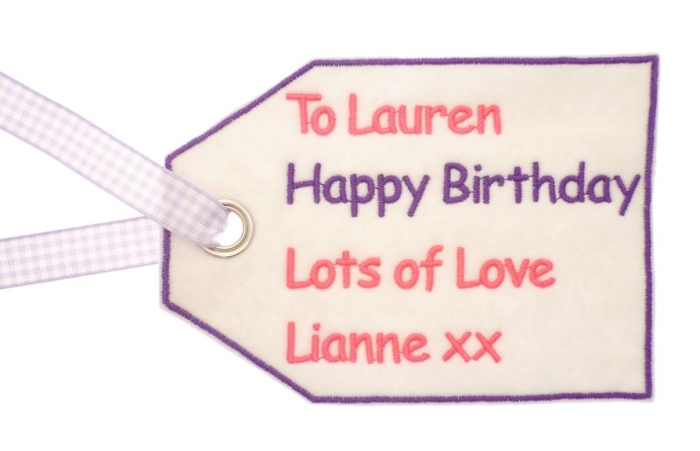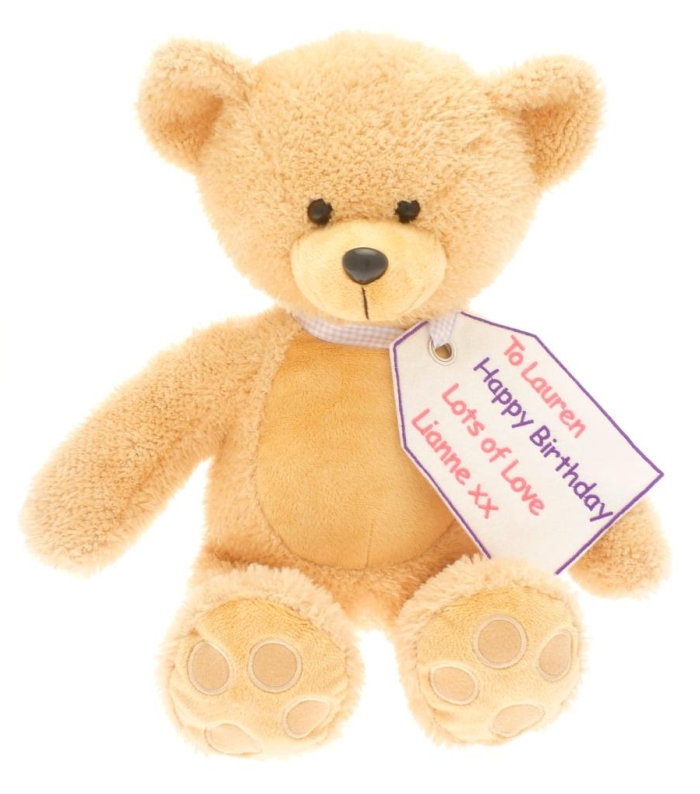 We Now Offer New Metallic and Glow in the Dark Thread Colours!
(Added 12th October 2012)
We have added some new embroidery thread colours to our bear design tool page which you can choose to be embroidered on your hoodie or on our new embroidered gift tag. New thread colours are as follows:-
Turquoise, Metallic Red, Metallic Blue, Metallic Green, Metallic Purple, Metallic Pink, Glow in Dark (Fluor), Glow in Dark (Pink) and Glow in Dark (Blue)
The Metallic threads are very shiney and look like glitter when embroidered.
Below is an image of the three new Glow in the Dark threads when in the dark. Fluor is just the normal glow in the dark colour so a very very pale green. If order for the thread to glow you need to charge it up by exposing the thread to natural or artifical light. To take the picture below the thread was exposed to normal light for about 30 seconds and as you can see glows really bright. This thread would look great on a childs bears, especially as a bedtime companion.
We've added some new Bears and Snowmen to our range!
(Added 28th September 2012)
In order to offer our customers a little more choice we have added some new teddies and snowmen to our range which can be purchased separately or personalised with one of our hoodies or embroidered gift tags. These new items have not be manufactured by Ready Teddy Go but other UK companies. They are still of high quality and have been fully tested to comply with EN71 and carry the CE Mark. This way we can test new designs and colours of bears that we can then manufacture ourselves at a later date.
Below is an image of some of our new additions and our full range can be viewed here.