Hello, it's me, Alfred the Teddy Bear again, and right now I'm very wet, very dirty and very cross! Let me explain …

I live with my humans, Janet, Ollie (Janet's little brother) and their mum and dad. Today, we all went to Dorking to see Auntie Helen, Uncle Joel and Harry the Dallie.
Harry the Dallie is a big slobbery Dalmatian dog. He is always getting into scrapes, and it's thanks to him that I ended up splat in a muddy field being trampled on by a herd of cows.

One thing Harry likes to do is get hold of me by my head and shake me till I'm dizzy. Janet gets cross about this (as do I) so before we reached Auntie Helen's house today she asked Human Mum to put me in her bag for safe-keeping. It turned out to be a very, very not-safe place indeed, as you will see.

When we got to Auntie Helen's, it had just stopped raining. Human Mum said it would be nice to go for a walk with the dog, which brought a lot of groans. In the end Human Mum, Helen and Harry the Dallie set off on their own – with me as an unwilling passenger. Janet and Ollie stayed inside with Uncle Joe, all toasty warm.
We splish-sploshed our way through the puddles on the pavements, then Auntie Helen led us up into the hills (Human Mum was puffing a bit) stopping at a wooden climbing frame (I think it's called a style) and a post pointing the way across a field.

The pointy post didn't have much to say except 'Public Footpath', but the gate had an important bit of information which Human Mum and Helen really should have read. It was all about dogs and livestock which, I think meant big black-and-white cows, like the ones which were staring at us from across the field.
Things started off alright, with me peeking out of the satchel while Auntie Helen and Human Mum tried not to step on the cow pats that Harry was rolling in. Suddenly he began barking like mad, because the cows were coming over to say hello. The sign in the field said that cows don't like dogs and that must have been why they were coming, to tell Harry to go away.
As the cows came closer and closer, Human Mum screamed "Shoo!" at the cows, flapping at them with her satchel. This sent me flying through the air but Human Mum didn't notice – she had already started running for the gate with Harry.
I landed in the biggest, soggiest cow pancake you ever saw - right next to Auntie Helen. She rescued me, but not before I got stomped on by half a dozen humungous cows. Luckily the farmer's wife came over. She firmly told them to stop being naughty, then led us back the way we came, all muddy and covered in smelly cow poo. Halfway across, it began to rain again.

I don't like the countryside.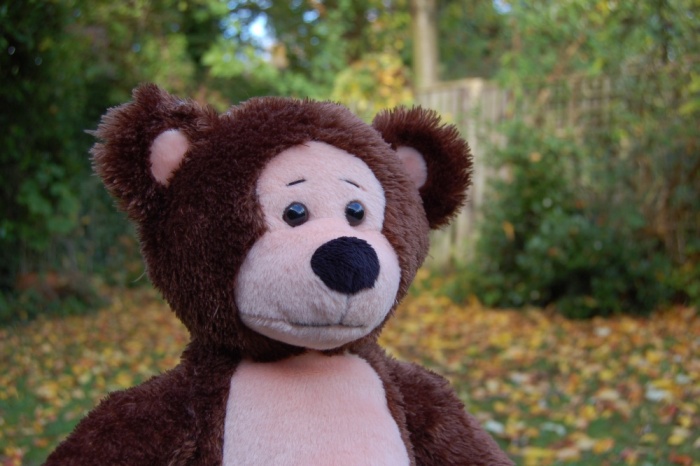 Story, images and all web and blog content are Copyright © of Ready Teddy Go ™ Ltd